IBP Formación Profesional is thrilled to announce the launch of our new Business Spanish course. This unique program combines eight hours of intensive Spanish classes per week with twelve hours of marketing courses. This course has been designed specifically for those who need to renew their student visa in Spain and wish to apply their knowlege of Spanish to the business world. It is an invaluable opportunity for professional and academic growth. The course will be taught at the Bcnlip school located at Carrer Provença, 148.
The Educational Excellence of Bcnlip
With 15 years of experience in language education in Barcelona, Bcnlip takes pride in partnering with IBP Formación Profesional for this new Business Spanish course. With 100% native Spanish teachers, the school ensures the highest quality in language instruction. Bcnlip's focus is on providing students with the linguistic and communicative skills necessary for success in the business and academic environment.
The Advantage of Combining Spanish and Business
According to Sofia Pariente Buzón, the Director of Bcnlip, the Business Spanish course created by Bcnlip in collaboration with IBP Formación Profesional is an exceptional opportunity for those who wish to enhance their professional and academic profile. "Proficiency in the Spanish language and professional knowledge are crucial in today's business environment. This collaboration provides students with a significant competitive advantage, as it covers three distinct specializations: administration and finance, international trade, and marketing and advertising," she comments.
The director adds, "Our goal is to provide students with comprehensive and relevant education. The Business Spanish course perfectly complements the language teaching programs offered by Bcnlip and offers students a complete view of the business world."
It is also important to note that the course meets the requirements for the renewal of the study visa, as Bcnlip is a school certified by the Instituto Cervantes. This program addresses the demand for long-term language courses that go beyond grammar. "Students seeking long-term language courses want a differentiated learning experience, and we believe that exposure to Spanish through subjects related to the business world adds significant value to language education," Sofia states.
Linguistic and Professional Skills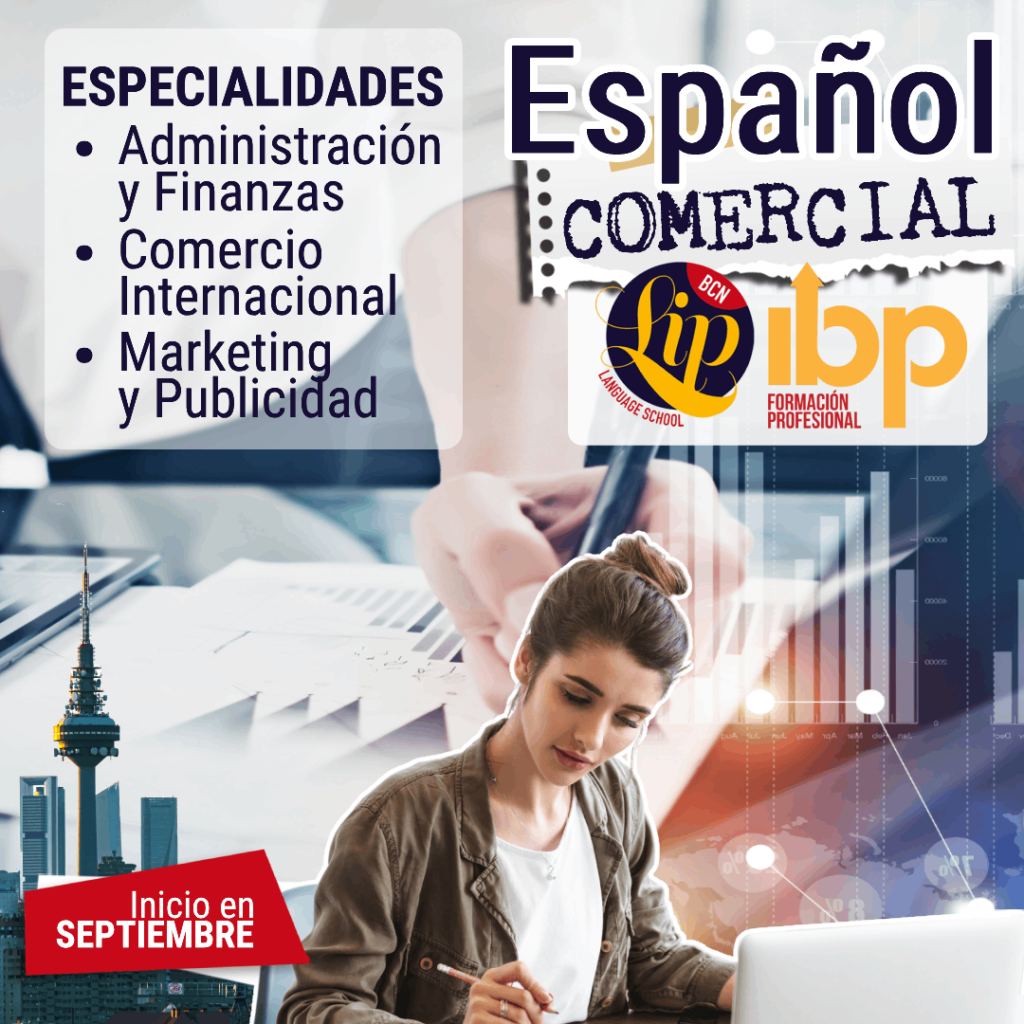 If you are looking to improve your language skills in Spanish and acquire knowledge in the field of marketing, administration, or international trade, the Business Spanish course offered by Bcnlip in collaboration with IBP Formación Profesional is the perfect choice for you. Don't miss this unique opportunity to advance your career in Spain. Email info@bcnlip.com for more information and to reserve your spot!