The countdown is over! We are excited to announce that classes at IBP Vocational Training will begin next Tuesday, September 12th. We are launching with a comprehensive and diverse educational offering, kickstarting our advanced vocational training courses in Administration and Finance, International Trade, and Marketing and Advertising. Additionally, we will also be starting our Commercial Spanish and Catalan + Business programs, which combine language classes with subjects from the vocational training programs.
This week, we held our final team meeting before the start of classes. We discussed the last technical and academic details of the course that will begin next week. We made sure not to overlook any detail; in addition to having the teachers and our academic director, Sergio Baeza, present, the general director of IBP Vocational Training, Sofía Pariente Buzón, and members of the administrative, IT, and communication teams were also in attendance.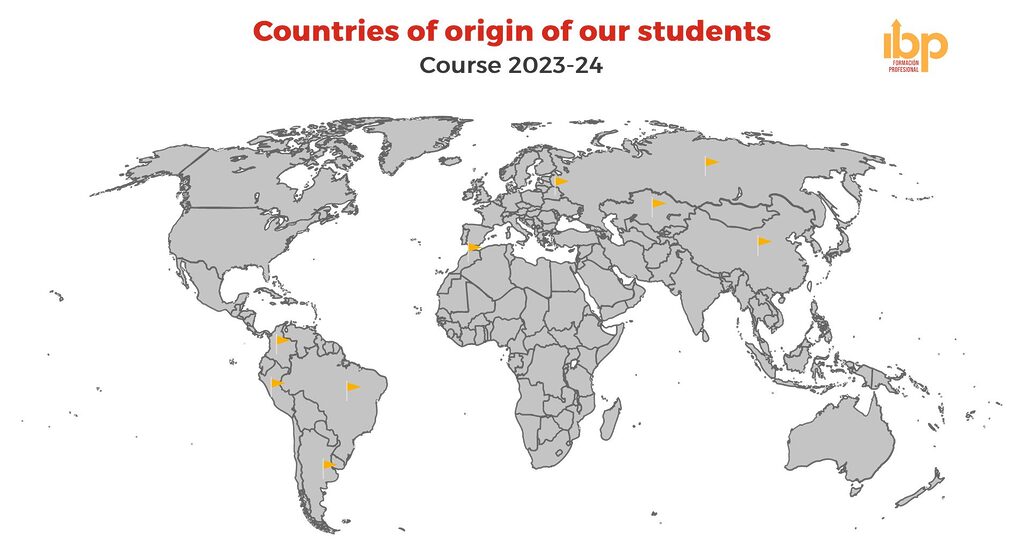 One of the things we're most excited about is the diversity in our classrooms. We have the pleasure of welcoming students from various corners of the globe: we have students from 9 countries and 3 different continents! For the 2023-24 academic year, we will host students from Argentina, Belarus, Brazil, China, Colombia, Kazakhstan, Morocco, Peru, and Russia. This cultural diversity will undoubtedly enrich the educational experience not only for our students but also for our teachers, who are thrilled to work in an environment as cosmopolitan as that of IBP.
One of the significant added values of vocational training in a multicultural setting is the richness offered by a diversity of perspectives. By interacting daily with classmates from different countries and cultures, students gain not only technical and professional training but also cultivate an open mind that is adaptable and receptive to new ways of thinking and working. This skill is crucial in today's globalized world, where international collaboration and the ability to understand and respect cultural differences are essential in any professional field.
Furthermore, sharing a classroom with people from various parts of the world allows the development of intercultural skills, highly valued in today's job market. These skills go beyond mere linguistic exchange; they enable students to understand and adapt to different communication styles, work in multicultural teams, and tackle challenges from a global perspective. Undoubtedly, this multicultural exposure during vocational training not only enriches the academic experience but also prepares students to be more competent and versatile professionals anywhere in the world.
Enrollments are still open
If you haven't enrolled yet, there's still time! We have a few spots available in certain groups, so don't miss this opportunity. If you're interested in any of the courses, we invite you to get in touch with us for a personalized appointment where you can get all the information you need. You can email us at info@ibpbarcelonafp.com or contact us via WhatsApp at +34 686 513 654. You can also click the button at the end of this post to directly choose the most convenient time for your appointment, which can be online or in-person (Carrer de Provença, 148, Eixample, Barcelona). For the complete schedule and a detailed description of all our courses, visit our website and check the specific section of the course you're interested in, where you'll find all the details. We hope to see you soon and share this exciting educational journey with you!